Update 2.0.5: More bank and spellbook space!
---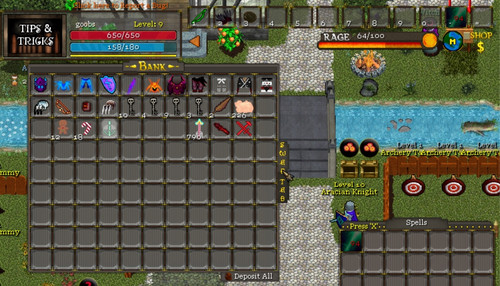 Update 2.0.5

We have made extensive character changes, so you must have the newest client version to log in and play (version 2.0.5). Get it through steam or itch.
Major Changes
• Added a Total Stats list to highscores! Type something like "/hs total" to see them.
• Added two more bank tabs, one for regular players and another for members. Click the swap tab button on the right to change tabs.
• Added another spellbook! Press 'X' to swap while the window is open.
• You can now SHIFT+ALT+CLICK resource tiles and items in Shops to take you to the wiki for more info about them.
• Added another cosmetic ring slot (Cosm. Ring 2) to be able to equip wings and a cape or glow, for example.
• Fixed AOE on spells casted by weapons.
Bug Fixes
• Counter skills will now give Endurance experience.
• Speed hacking prompts are now battle messages that don't annoyingly interrupt your game.
• When pressing ALT, item names on the ground will now stack properly instead of overlapping.
• When dying in PVP/unsafe zones, your equipped untradeable items (like most cosmetics) will not be unequipped.
• Fixed a bug where a full potion does not give back the half potion on full inventory.
• You can now swap spells around if other spells are on cooldown. Spells on cooldown still cannot be swapped.
• Fixed a bug where buff spells casted and went on cooldown when already at max buffs.
• You can now equip a two-handed weapon if you have 1 free inventory slot.
• Fixed a bug when selecting 'No' in the item alchemize prompt would continue to ask you every time you double-clicked something.
• Highscores will now save on level up as well as logout.
• Updated default cache when updating/downloading the game to alleviate overflow errors and missing textures.
Please join the Discord at https://discord.gg/yzbRwJK where we most promptly and frequently give updates on the game, answer questions, and provide support and players communicate.
Visit the wiki at https://orake.fandom.com/wiki/Orake_Wikia
Files
OrakeClassic2.0.5.rar
805 MB
21 days ago